Coming up next week on Home and Away in the UK, Felicity is shocked to the core when she discovers the identity of Tane's attacker—but will anyone believe her? Plus Ryder and Theo take their first step to internet stardom in a bid to raise some cash…
Following the tragic chemical attack on Tane Parata (Ethan Browne) in the gym, all eyes have been on Felicity Newman (Jacqui Purvis) for the previous few weeks.
Despite the fact that Tane was the only one targeted, the pesticide moved through the ventilation system to Martha Stewart's (Belinda Giblin) fundraiser event upstairs at Salt, forcing Martha and Marilyn Chambers (Emily Symons) to battle for their lives as well.
Tane had been the focus of a weird campaign involving roses and cryptic notes that had been given to him for several weeks. His thoughts immediately went to Felicity, with whom he'd recently had casual sex before breaking things up when he realized she wanted more from the relationship.
Tane accused Flick of following him and she began to feel increasingly terrified by Tane's presence around the bay as their relationship deteriorated over the weeks. It got to the point that she had no choice but to issue an AVO against him on the day of the chemical assault.
When Flick realized she didn't have an alibi, she enlisted the help of her best friend and coworker Anne (Megan Smart), but she broke her word by refusing to corroborate Flick's account when questioned by Federal Police Detective Darren Nasser (Julian Maroun). Anne apologized to Flick and explained that she was afraid, and the two reconciled.
But that didn't assist Flick's case, especially when Jasmine discovered a pesticide receipt in her van (Sam Frost). Despite his reservations, Cash (Nicholas Cartwright) eventually came to believe in his sister's innocence and surprised her by burning the receipt. But it was all for naught when Nasser discovered a stockpile of sedatives in Flick's van after a police search.
Detective Nasser pulls Felicity to the police station for questioning the next week, despite her claims that she has never seen the sedatives before. While she begs Cash for assistance, it is clear that he no longer believes her, and while he tries to join Flick, Nasser warns him that doing so could jeopardize the investigation.
Nasser interrogates Flick, telling her that the most recent toxicology findings show that the chemicals discovered in the van are the same as those used on Tane. Faced with charges of attempted murder and causing great bodily injury, Flick claims that someone is framing her, but she acknowledges she has no idea who it is.
As the inquiry progresses, Nasser eventually releases Flick without charge the next morning, and Flick turns to Anne in the wake of Cash's betrayal.
Jasmine subsequently tries to defend Cash at the surf club, claiming that he destroyed evidence for her, but Flick points out that she never ordered him to burn the receipt. Anne overhears this and inquires about what they were discussing, but Flick instructs her to mind her own business.
Shortly later, Flick notices an anonymous social media post stating that the police should be "looking into the missing charred pesticide receipt," and she realizes there's only one person who could have written it…
As everything finally falls into place, Flick looks across at her best friend—"It was you… it was you all along!"
But rather than deny it, Anne simply tells Flick to prove it, with a wry smile on her face.
Anne soon drives off, but not before taunting Flick further with her knowledge about what Cash did to try and protect her.
Cash is alarmed when Nasser notices the social media post as well. When he asks Cash if he knows anything about the allegedly destroyed evidence, Cash says he doesn't. Later, he acknowledges to Jasmine that he wants to come clean and confess, despite her best efforts to persuade him otherwise.
Rushing up to Cash on the beach, Flick exclaims that she knows who did it! But Cash is dismissive of her after seeing the evidence against her, and, with no proof of what she's claiming, he simply tells a devastated Flick to go and talk to the detective.
When Cash returns to the police station, he discovers Nasser and the rest of the squad preparing to arrest Flick for attempted murder. He makes a futile attempt to stop the proceedings by repeating Flick's claims, but to no avail. However, when they arrive at Flick's van to take her into custody, it is completely empty.
Has Flick done a runner?
Whilst Flick may be feeling as though everyone is against her, it seems she has a sympathiser in an unlikely place. As Tane is released from hospital next week following his miraculous recovery, Detective Nasser pops round to tell them the latest on the case—they have a warrant out for Felicity's arrest.
Tane continues to voice his opinion that Flick isn't responsible, even when another rose appears on his doorstep.
But Tane's nephew Nikau (Kawakawa Fox-Reo) remains convinced of Flick's guilt, and continues to rile up his hate campaign towards her on social media, despite girlfriend Bella's (Courtney Miller) pleas.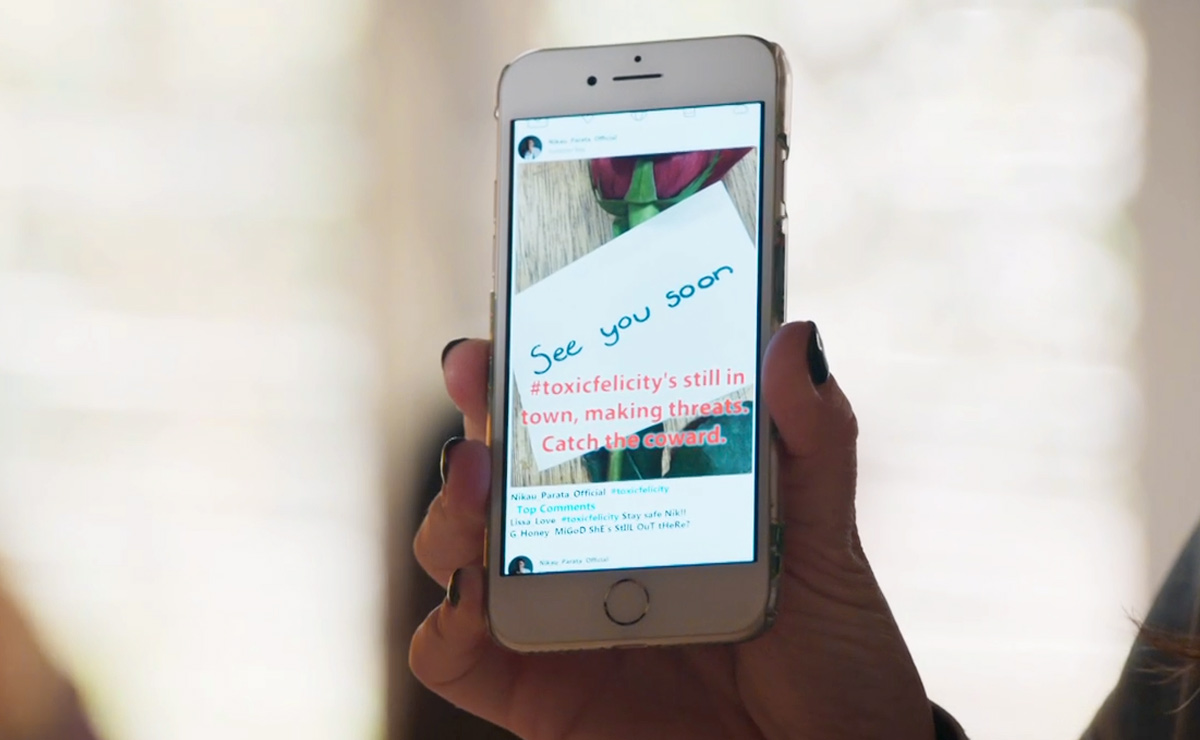 Will Bella or Tane be able to convince Nik to put a halt to things before it gets out of hand?
Did you spot the clue?
Although there'd been no direct contact between Tane and Anne on-screen until after the stalking started, there was a clue hidden in plain sight during a scene which aired two weeks ago.
Flick's contact with Anne the morning following the incident at the surf club saw Anne wearing a pair of boots identical to the ones worn by Tane's assailant.
Though some fans may of course argue that the introduction of a guest character connected to Flick, soon after the storyline kicked off, could also have been a pretty big clue!
Ryder (Lukas Radovich) and Chloe (Sam Barrett) have unwillingly agreed to work with Theo (Matt Evans) to earn some much-needed cash, and they're astonished by his suggestion—social media video challenges!
Theo adds that the video he filmed on his phone the night he 'kidnapped' Ryder to take him to his 21st birthday celebration has been uploaded to YouTube and has received a lot of attention.
Whilst Ryder isn't too impressed with the fact that his freaking out at Theo has been viewed by nearly 50,000 people, Theo then points out the comments—people simply cannot wait for the next video featuring them both.
The next morning, Theo is trying to put things right with Justin (James Stewart) by offering to clean up the office at the garage on his day off.
When Justin receives a text from Ryder requesting a meeting, he refuses to let him go, since he and Leah (Ada Nicodemou) are both impressed that Theo is finally making an attempt to settle down in the bay.
Ryder agrees to Theo's plan, with certain conditions attached, and they begin working on ideas for their first video.
With the two struggling to agree, it all comes down to Chloe pulling an idea out of a hat—which ends up being a chilli eating contest!
But as Chloe films Ryder and Theo square up and begin the challenge, little do any of them realise that the evening will end with an unexpected development…
Former Home And Away star Tammin Sursok has joined the cast of Neighbours
Home and Away star Mark Furze and wife Laural welcome their first child together
Home and Away 2022 Promo| Will this mistake cost him everything 40 seconds version